Proprietary TMS vs. Full-Scale TMS: The Top 5 Areas to Consider
A transportation management system (TMS) helps carriers run their operations smoothly. TMS platforms are the data hub that connects drivers to dispatch and everything in between. They've transformed the way carriers conduct business, moving operations off of spreadsheets or pen and paper to the digital world. To take advantage of this technology, many carriers created their own proprietary TMS.
However, as companies and fleets grow, carriers have to look at their proprietary software and ensure it can scale with their business. If not, they will need to transition to a technology provider that can grow with them and keep up with technological advancements.
In this blog, we look at the top five areas carriers need to consider when deciding to use a proprietary TMS or switch to a cloud-based TMS provider.
Does Your Proprietary TMS Provide Value in These 5 Areas?
1. Invoice/transaction costs: The cost of running a load is not as simple as tracking cost per mile. Its true cost includes its entire journey – from the order being placed to final closeout of the invoice – as well as the management of that journey. All of which adds up really quickly. For instance, a trucking company may have a couple of people booking loads, processing the transactions and invoices, and, of course, the driver delivering the load and everyone else in between. Therefore, a carrier's cost per mile is not what they book the load for; it is actually much lower when all other touchpoints are added in.
However, switching to a SaaS-based TMS that is hosted by a provider automates many of those processes and touchpoints, resulting in substantial cost-savings and making the cost per mile closer to the reality of a load's actual cost. And when a fleet is running hundreds of transactions per day, the amount of money saved is a significant return on investment.
2. Compliance issues: Advanced TMS technology can greatly mitigate compliance risks. If a proprietary TMS does not have load tracking, ELD and other functionality, a carrier is putting itself at higher risk than necessary.
A next-gen TMS platform hosted by a provider is fully integrated with telematics, ELDs, GPS, driver hours, load documentation, and other systems that can help prevent compliance issues. The single TMS platform will easily allow the carrier to manage and control all aspects of compliance from the load to the driver to the equipment. It will help fleets ensure loads are carried by the right type of trailer, drivers are not over hours, and hazmat loads are documented and handled correctly. It can also keep track of all truck maintenance records and alert when something is due for inspection. All of this helps reduce risk and prevent fines.
3. Personnel focus/usage: In the area of headcount, a proprietary system still requires a large amount of people to ensure it is properly functioning and push the transactions through. But a full-scale TMS from a provider is automated and will allow your people to focus on more revenue-generating roles.
For instance, a carrier with a proprietary TMS and 150 trucks may have six people working in accounts payable, but a 150-truck carrier using a cloud-based TMS would only need two accounts payable employees because of the time saved through TMS automations. For this example, let's say each accounts payable staff member is making $50,000/year plus benefits, that's an additional cost of $200,000 or more for the proprietary user while a cloud-based TMS carrier pays $120,000/year, resulting in a savings of $80,000/year just from one department!
4. Opportunity costs: A proprietary TMS is limited to the functionality that a carrier knows it needs for the customers it has at the time of the build. However, a cloud-based TMS is more robust because of the breadth of carriers it serves (as well as those carriers' customers). They have APIs and integrations already built in and can add others more easily than a proprietary TMS.
For instance, a TMS provider is likely integrated to accept EDI loads, but a proprietary TMS may not be. Therefore, opportunity costs can be vast and pricey depending on what functionality you need, and it goes back to the issue of scalability. A proprietary TMS will not have the same ability to grow with a company as a hosted TMS.
5. Profit leaks: Carriers may not even be aware of some of the profit leaks they are experiencing on a daily basis because of their proprietary TMS. Some common leaks include: a driver missing a load because his mobile com didn't get the information; no alerts for out-of-route miles; no automated dispatch or communications; no ability to upload documents; out of date mapping or GPS; no fuel or idle time tracking; and so much more.
However, with a centralized system of data (like a full-service, SaaS-based TMS), a lot of that stuff won't get missed because of the automation, alerts, and ability to access the system from anywhere. Preventing these profit leaks increases revenue and creates a system of accountability.
Technology That Adapts as Your Business Adapts
The transportation industry is changing. It is finally catching up technology-wise, and this is where a next-gen TMS could help carriers excel and increase profits by focusing on what they do best – safe and on-time delivery of goods.
Next generation, SaaS-based technology provides full, unlimited access to essential business features and services and allows for scalable growth, ensuring a maximum return on investment for carriers. The full-service TMS platform will increase efficiencies and opportunities for growth, lower transaction costs and compliance risks, and prevent profit leaks.
If you are ready to improve experience, drive innovation, create new possibilities, and solve business-specific challenges, contact us today to schedule a demo: (877) 381-4632 or sales@magnustech.com.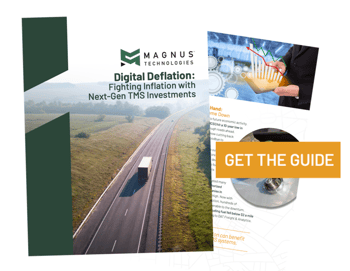 As inflation rates rise, there's no better way to fight it than by investing in technology innovations that make your business better and more efficient, like SaaS products. Download "Digital Deflation: Fighting Inflation with Next-Gen TMS Investments" for more information.
About Magnus Technologies