Everything you should know, expect and demand from a system.
Make the most of your TMS
Drawing on the combined expertise and hands-on experience of dozens of trucking/logistics IT Executives, this comprehensive guide explores the seven core benefits every TMS must deliver: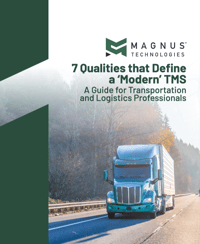 1. Fast, low-cost deployment
2. Automatic software updates
3. Future-proof technology
5. Intelligent driver workflow
6. Maximum security and readiness
Written with both IT Admins and end users in mind, "7 Qualities that Define a 'Modern' TMS" takes you step-by-step through the process of selecting the right platform for your company – one that seamlessly delivers a complete, end-to-end mobile dispatch and order-fulfillment solution for maximizing profitability and growth.
Get your free copy now!