Improve Supply Chain Transparency (& Security) with TMS & APIs
Mentions of supply chain issues by chief executives increased 412% year-over-year at the end of 2021. And unfortunately, the problem is continuing. Supply chain visibility or transparency from all parties involved, along each step of the freight journey is necessary in today's market. Carriers need to know when and where to pick up freight, shippers need to know where their product is, and end users need to know when it is arriving, not to mention everyone and everything else involved in between (including rate pricing, warehouse/inventory management, invoicing, etc.).
Advanced Transportation Management Technology Helps Increase Visibility
As the transportation industry moves toward more digital operations and transactions, carriers will have access to more data than ever before. This data can be used to gain insights that will help carriers improve their performance, streamline processes and increase transparency in order to maintain a competitive edge in the market.
Transportation management systems (TMS) provide carriers with better insight into their logistics processes and enable them to make improvements. Since a TMS is not the only source of information it cannot provide a complete view of all aspects of business operations. That's where application programming interfaces (APIs) come into play.
APIs can be easily integrated into a TMS because they are cloud-based and are activated and accessed through a simple internet connection. APIs transform transportation management platforms into interoperable systems by allowing data to be shared back and forth between inputs while acting as a single connection data hub for the carrier and all its integrations.
The use of APIs helps carriers overcome some of the biggest obstacles standing between them and increased visibility into their networks. By leveraging real-time data from a connected ecosystem of applications, carriers can better understand what's happening during the lifecycle of loads. This increased transparency allows carriers to better monitor their capacity and performance and respond as events happen rather than react to issues that arise.
Does Increased Supply Chain Visibility Come with Cybersecurity Risks?
Many carriers are concerned about security when it comes to TMS systems that have API integrations because of the multiple points of data entry into the platform. But rest assured, modern, software-as-a-service TMS systems and APIs can be highly protected against cyberattacks.
Modern TMS systems already have extensive protections against cyberattacks built into their architecture, including firewalls and disaster recovery solutions. Also, API architecture has extra protection built in by requiring authentication and authorization. Authentication verifies that all clients using the API are safe and allowed to use the API. Authorization is a subsequent security step that determines the data and actions that the authenticated application can access through the API.
Additionally, the cloud-based TMS system offers protection for its API connections through the company that hosts the platform. These companies are experts at cybersecurity and provide better protection than the IT security measures that trucking or logistics providers could put in place at their own on-premises data centers. And at a much lower cost model.
For example, the cloud-based Magnus TMS uses Amazon Web Services (AWS), which is one of the top cloud providers in the world, for its enterprise SaaS-based TMS platform. By utilizing AWS, Magnus clients are provided a resilient, high-security TMS infrastructure with zero capital expenditure and no need to update security programs like they would need to with an on-prem server.
Additionally, Magnus segments each TMS customer datastore with their own instance in AWS, providing another layer of security. This significantly reduces the possibility that a data breach at one company will spread to and impact other customers. The AWS platform also has business continuity measures in place to ensure all data is immediately available in the unlikely event of a system outage. And because the TMS is housed within AWS, any integrated API receives these same protections.
APIs Result in Better Supply Chain Transparency & Cybersecurity
In the end, integrating APIs into a TMS improves visibility because it allows the sharing of information throughout the supply chain. Carriers and shippers benefit from a more transparent, collaborative supply chain and the ability to operate with up-to-date information. But they also have added security when using a cloud-based TMS, because not only is the data accessible to those who need it, but it's also better protected.
Also, check out "Does Your TMS Pass the Stress Test?" to get more information about the advantages of SaaS vs. client-server TMS models with expert analysis by a professional hacker.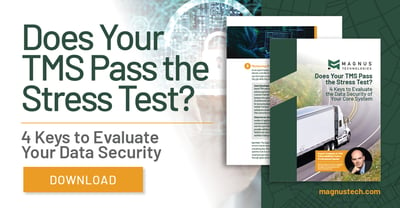 About Magnus Technologies