Use Business Intelligence to Fight Inflation in Transportation
Transportation management systems fueled by business intelligence can quickly prove their value, especially during turbulent times. From a booming economy to inflation and a possible recession on the horizon, trucking companies need real-time intelligence about their operations now more than ever.
Rising costs have aggravated a problem that Gartner points out, namely, that many transportation company leaders sense a lack of transparency and insufficient data from some of their software providers.
The problems trace back to two causes, according to Gartner: 1) Reporting isn't dynamic enough to keep up with the marketplace in real time; and 2) Data about company KPIs isn't well-captured. These factors, among others, are fueling the need for better business intelligence (BI) tools.
How to Fight Driver Wage Inflation
Even with record fuel prices, the top expense for motor carriers remains unchanged. Driver wages have been rising and are unlikely to fall. This is putting non-stop pressure on fleets.
To help drivers make more money without continuing down the road of artificial pay increases, fleets can leverage the power of BI to fight driver wage inflation in two important ways.
1. AI-Driven Load Planning
The first contribution begins with dynamic load planning. Some TMS providers infuse artificial intelligence (AI) and machine learning into core TMS processes. This makes it possible for software to consider hundreds of data points to pair the right driver with the best load, in a fraction of the time and with more accuracy than humanly possible.
Technology-enabled load matching outperforms human-based assignments by simultaneously accounting for variables to make the best-possible decisions based on:
• Locations
• Hours of service
• Equipment types
• Empty miles
• And much more
With intelligent load matches and less administrative work, fleets can keep drivers' wheels turning on revenue-generating miles. Besides giving drivers optimized loads and schedules, fleets can use a TMS-powered driver app to simplify their work by streamlining load updates and paperwork.
2. Back Office Efficiency
AI-driven business processes bring benefits to the back offices of transportation companies in many ways. With a TMS doing the heavy lifting, employees can do more with less. Order entry becomes more automated and dispatchers can manage additional drivers, among other improvements.
Automation can result in fleets minimizing staff overhead or better yet, finding ways to reallocate staff to more valuable and fulfilling work, both of which helps to protect margins from inflation.
Operational Insights Benefit The Pasha Group
The Pasha Group has streamlined operations by using a TMS Load Builder feature within its Magnus TMS. The feature spotlights available and underutilized haulers to maximize load count while minimizing empty miles. By using a color-coded map view, users quickly and confidently visualize how to consolidate orders and maximize revenue per truck.
With a better understanding of day-to-day equipment utilization, Pasha creates more revenue-generating opportunities for drivers. To support each driver's business success, the TMS also features information accessible to drivers through a mobile app for:
• Truck maintenance
• Payroll
• Escrow
Business Growth from Business Intelligence
No better way exists to fight inflation than investing in innovations that make the business more efficient. The Pasha Group has experienced significant volume growth, both in direct business and through its carrier partner network by investing in the Magnus TMS.
For The Pasha Group, gaining better insights has created new revenue opportunities from its auto-hauling operations by doing yard moves and shuttles. The company is doing more business with less staff and "plans to just keep getting better," said Jason Cook, Pasha's senior director of dispatch and business development.
BI Now Readily Available to More Transportation Companies
Today, SaaS-based TMS platforms with powerful BI capabilities and AI-driven load planning features are scalable to fleets of all sizes. The Magnus platform, for example, is available for a simple per-truck monthly subscription fee. This makes costs predictable and, more importantly, offers big IT benefits by having a scalable, enterprise-grade TMS to fight inflation by:
• Directly connecting IT costs to truck utilization data for better alignment with current revenues.
• Simplifying implementation with a SaaS-based TMS.
• Limiting the need for in-house IT support by providing software hosting, data storage and maintenance.
• Expanding API integrations with third-party applications like electronic logs, trailer tracking, fuel payment, load updates and accounting. Those integrations are included in the monthly fee at no additional charge.
• Including updates and ongoing training and support.
There's no better strategy to fight inflation than investing wisely in technology that makes your business stronger. For an in-depth look at how this strategy can be applied most effectively in trucking, download the Magnus Q3 Guide: "Digital Deflation: Fighting Inflation with Next-Gen TMS Investments."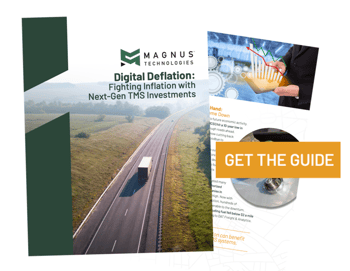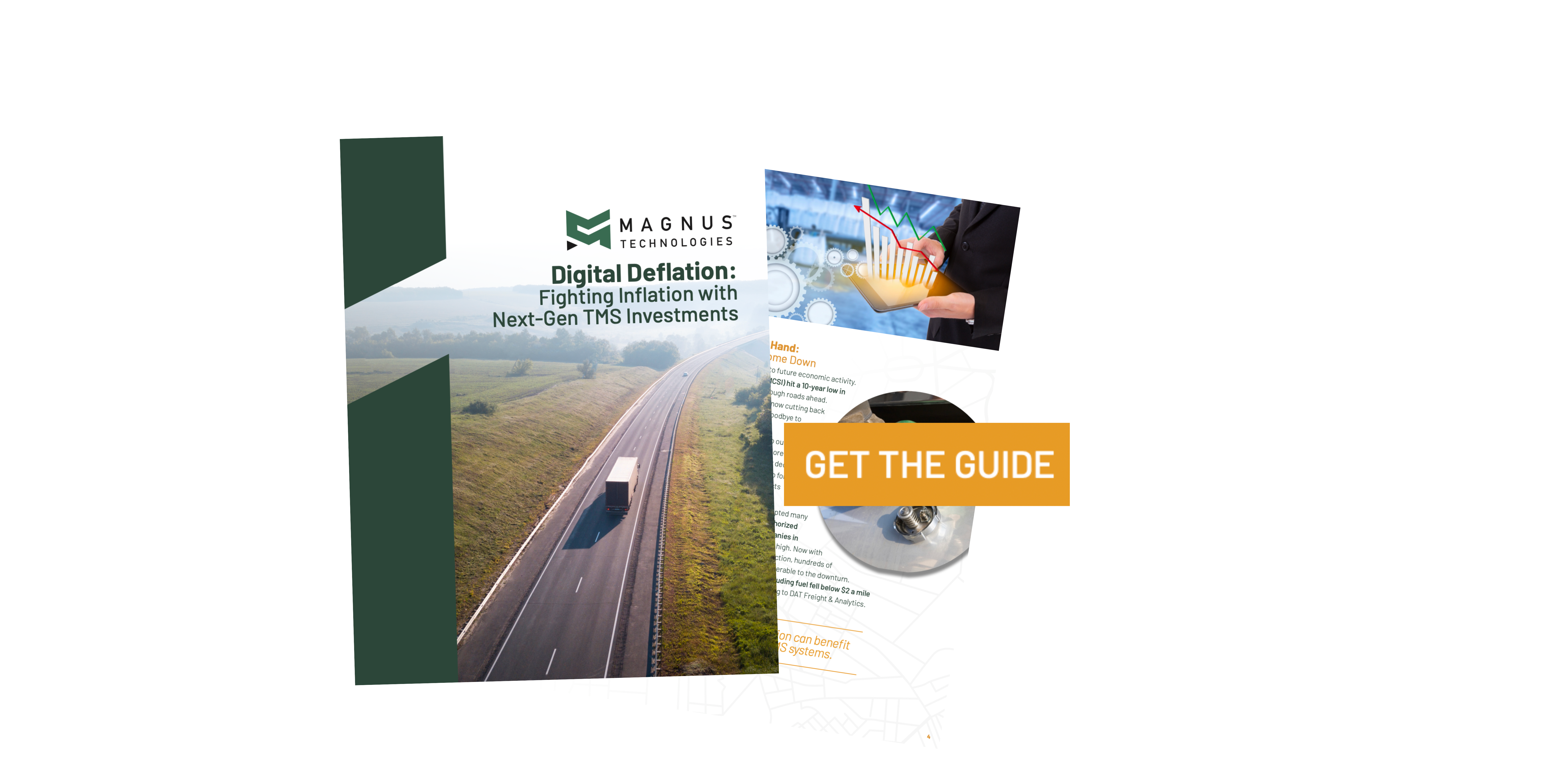 About Magnus Technologies