Trim Your IT Budget with a SaaS-Based TMS
Trucking and logistics companies are getting squeezed by two vices: excess capacity and rising costs. FTR Transportation Intelligence data shows a 5% surplus in freight capacity during Q1 and transportation costs are increasing across the board.
A modern, cloud-based transportation management system (TMS) that simplifies transportation processes can alleviate pressures on both sides of the ledger by increasing your staying power with customers while reducing operating costs.
The Cost-Saving Benefits of a Cloud-Based TMS
The pandemic created a surge in demand for trucking and logistics services. Companies had to more efficiently utilize assets to help shippers mend fractured supply chains. Although freight demand has subsided, the benefits of using a TMS have become more pronounced during an economic downturn.
In 2022, about 50% of the companies that use a TMS said they achieved a return on their investment within 12 months or less of its implementation, according to Peerless Research Group's Warehouse Software and Automation Survey.
In the current environment, moving to a cloud-based TMS can produce a faster ROI by significantly reducing costs associated with a traditional client-server setup. Overhead from hardware, maintenance, storage, training, and more can be eliminated to free money and resources for areas that will make a real difference.
Here's a sample of where you can expect to see immediate paybacks:
Low startup costs and transparent pricing. Migrating to a modern, SaaS-based TMS can be done with minimal startup and training costs, along with zero overhead. Upfront pricing models allow trucking and logistics companies to get everything they need, in one monthly subscription, to digitize the full order-to-cash lifecycle of loads. This includes a TMS, a mobile app to streamline driver workflows, business intelligence (BI) platform for reporting, and more.

Frequent updates. Companies that use traditional client-server TMS platforms can get left behind running outdated versions due to new software updates being costly and disruptive. With a SaaS-based TMS, companies run the latest version with no extra costs for software or hardware, maintenance, and training. Updates included in the subscription also provide better protection against cyberthreats versus a stand-alone, client-server TMS.

Scalability. With a SaaS-based TMS you can align your IT costs with revenues. If business volumes are down, the monthly subscription of your TMS can quickly scale according to your needs. This flexibility is especially useful when companies need to add new system integrations with telematics providers, billing partners, ELD, EPR platforms, and more. The integrations can be included in the monthly subscription for no additional cost or fee.

Machine learning. Cloud-based TMS platforms that leverage artificial intelligence and machine learning can significantly improve load planning decisions and automate freight visibility. These areas impact operational efficiency by giving dispatchers the best options for matching power to loads. They also improve customer service by delivering accurate, real-time shipment visibility and arrival times.
Better Decisions for Better ROI
Trimming your IT budget to better align with your revenues in a down freight market doesn't require making any compromises if you use a modern TMS. The scalability offered by a cloud-based solution makes it possible to save money in overhead while expanding the features and functions you need to run more efficiently.
A modern, cloud-based TMS offers many advantages over traditional client-server models. It starts with a fast and easy implementation with predictable monthly pricing that fits your budget today and tomorrow by scaling with your business needs. Investing in a cloud-based TMS will free up resources for critical projects and provide access to new integrations and services you will need down the road for no additional cost.
Are you ready to discover how to simplify your business and save money with a modern, cloud-based TMS? Download our latest guide on 5 ways a modern TMS reduces operational cost and complexity.
See the Magnus TMS in action by calling (877) 381-4632 or emailing sales@magnustech.com.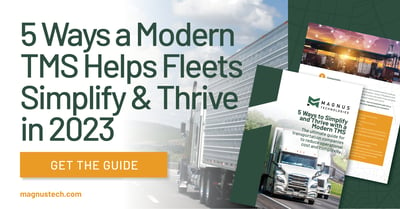 About Magnus Technologies