More Bang for Your Buck: The Benefits of Modern TMS Pricing
The shift to software as a service (SaaS) for managing and delivering a company's applications swept through nearly every industry at the onset of the pandemic. In fact, SaaS – where the software is owned, delivered, and managed within a remote cloud network – is the largest public cloud services market segment today, with Gartner forecasting it to reach $176.6 billion in end-user spending this year.
The draw to SaaS is pretty straightforward. The models work like a subscription, offering companies greater flexibility and affordability by sidestepping the startup and ongoing IT administration costs of traditional client-server models. There are a variety of SaaS pricing structures, including a flat rate, usage-based pricing that's like a "pay as you go" approach; per user pricing; tiered pricing, and so on. No matter the pricing structure, companies who partner with SaaS providers are realizing significant cost savings.
Traditional professional services for client-server implementations are needed during setup, configuration, training, and custom development of a solution. This often comes with unexpected additional costs for add-ons, plug-ins, and integrations. It adds up quickly. Today, as financial pressure is mounting for executives across every market, they're looking to save costs wherever possible, and SaaS models do just that – they let companies choose the path that's best for their business, both operationally and financially.
That's exactly what modern, SaaS-based transportation management systems (TMS) offer to the trucking industry – affordability, flexibility, and operational resiliency. Let's dive in deeper.
Legacy vs. Modern TMS Pricing Models
It's important for those in the trucking industry to understand the nuances of legacy and modern, SaaS-based TMS pricing models and how they vary. Here's just a few of the many differences:
Legacy TMS systems
• Licensing: With a legacy system and a traditional pricing model, it's not unusual for a motor carrier to be paying up to $100,000 for licensing fees for 10 users and at least $20,000 per year thereafter. These costs are for the base package, and they increase with additional modules. What's more, the number of users or trucks can vary each month due to seasonal factors or tight labor markets, leaving executives paying for more than they need.
• Implementation: The implementation process with a legacy system can be long and drag on for months, even years, with steep costs for setup and training.
• Access to new software updates: Motor carriers rely on up-to-date systems to ensure operations can continue to run smoothly and accurately, but with traditional, legacy systems, they often have to pay $20,000 per year just for maintenance, which may or may not include access to the latest upgrades.
Modern, SaaS-based systems
• Licensing: With a SaaS-based system, motor carriers are more likely to pay $50-$100 per truck (or $5,000 to $10,000 per month) with no additional charge for more logins. This means carriers are only paying for the number of trucks they actually have rather than a base price regardless of the number.
• Implementation: Modern TMS systems can be deployed in a few days, and the subscription typically covers implementation and training. It's efficient, it's convenient, and it doesn't take up resources from the motor carrier.
• Access to new software updates: With the right SaaS-based system and partner, customer-driven enhancements and upgrades are available for no extra cost to the carrier. There's no second guessing if they have the latest and greatest update, and there's no concern about extra fees.
API integrations, hosting logistics, and even electronic data interchange (EDI) setup and maintenance are all calculated and priced differently with traditional versus modern systems as well.
For motor carriers in search of better service and more value from their systems and solutions, it's clear that a SaaS platform is the way forward. It fits what everyone is looking for in modern technology: fast deployment, easy configuration, and all-inclusive access to features through a subscription that best fits their needs.
Out With the Old, In With the New
Modern, SaaS-based technology should provide full, unlimited access to essential business features and services to ensure maximum return on investment and scalable growth. We understand that at Magnus Technologies, which is why our SaaS-based TMS technology offers simple, straightforward pricing so there's no guesswork and no surprises.
Plus, we're a fit for everyone – whether a motor carrier dispatches 50 or 5,000 trucks, we provide a full suite of features and integrations as part of the subscription, as well as ongoing support and upgrades, all for no additional cost. This ensures you have everything you need to streamline the order-to-cash cycle and maximize business performance and growth.
When you're ready to shift to a modern, enterprise-grade SaaS, contact us today to schedule a demo at (877) 381-4632 or sales@magnustech.com.
With today's high inflation rates, there's no better way to fight it than by investing in technology innovations that make your business better and more efficient, like SaaS products. Download our latest guide for more information.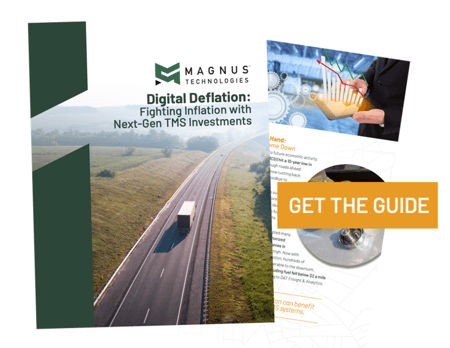 About Magnus Technologies