Tap the Easy Button: 5 Ways for Trucking Companies to Simplify Operations
What goes up must come down, and vice-versa. S&P Global Intelligence predicts a slow start to U.S. freight volumes in 2023 and a gradual pick up ending with overall growth.
So, carriers and logistics providers just need to wait patiently, right? Wrong. A sluggish start of the year is the best time to strategize, but instead of scrambling to do more, companies may want to consider doing less to have an outsized impact.
Companies that simplify typically earn higher profits, enjoy more consumer loyalty, and experience less employee turnover. Think of companies like XPO spinning off divisions or Old Dominion being a stock market darling for its laser-focused LTL strategy. The secret is to prioritize what matters and get really good at those things.
Look at your business and find the processes and practices that could represent a giant, red "easy button" that have an oversized impact on profits and efficiencies. Here are a few simple places to start:
1. Use the Data
Commercial Carrier Journal reports that an estimated 60-73% of all enterprise data goes unused for analytics. Failing to leverage the power of existing data is like leaving money on the table.
Data already at your fingertips can be transformed into actionable items by establishing benchmarks and KPIs. Think beyond standard customer scorecards or miles-per-truck metrics. Dig deeper to find data capable of driving revenue in different ways, and then create goals for the company and use departmental and individual measurements to feed those objectives.
2. Focus on Fuel Consumption
One of the most impactful things carriers — and even 3PLs — can focus on is fuel consumption. The simplest way to improve fuel efficiency is by coaching drivers.
The National Truck Equipment Association found that 10% of trucks on the road idle more than four hours per day. Added up across a year and each truck can cost a company nearly $5,500 in burned fuel. By reducing speed from 75 to 65 mph, trucks pick up 27% in fuel economy. Other tactics like teaching drivers to pull up the fifth wheel or easing off the accelerator when going downhill can generate thousands of dollars in annual savings.
3. Improve the Customer Experience
Of course, you care about the customer and strive to provide excellent service. However, customer experience is different. This is the impression your customers have of your company throughout every touchpoint — not just on-time service.
Today's customers want easy experiences. Easy load tendering. Easy load tracking. Easy price negotiations. The list goes on. Look at your customer's journey. Find the places where a little TLC can improve the customer's experience working with your company. The investment will pay off. In fact, 76% of consumers are more likely to recommend a company when it provides simpler experiences and communications.
4. Act on Accessorials
Raising rates in a down market is an uphill battle. Shippers understandably work to decrease rates when freight volumes are lighter. But carriers and 3PLs often overlook accessorial charges. An estimated 40% of accessorials go unbilled or uncollected every year.
Accessorials often get missed because people do not know to look for them. They often vary by customer and are included in the contract but are not operationalized. Educate your team on what accessorials apply and the documentation and processes needed to bill for them.
5. Tap into Technology
The transportation industry has a technology solution for nearly every problem. Adding them all is impossible, especially when times are tight. One place to get the most bang for your buck is investing in the right transportation management system (TMS).
A Gartner study found TMS users gain up to 15% in annual savings. Those cost improvements come from better equipment utilization, smarter routing, and staff overhead reductions or reallocations. Companies can manage their entire operation in a single place — from order booking all the way to billing and everything in between.
The technology simplifies managing items one through four on this list too. That makes leveraging a TMS the easiest button of them all.
Most technology innovations in transportation and logistics are rooted in simplicity. The first half of 2023 is an opportunity to leverage technology that will enable greater efficiencies and better decision making. By giving people a simpler and smarter way to work, whether in the cab, the office or c-suite, you can use the newfound path of least resistance to focus time and resources on more valuable and rewarding activities.
Interested in learning more about the outsized advantage of a simplified TMS? Download our latest guide on 5 ways a modern TMS reduces operational cost and complexity.
Go Easy with Magnus
The Magnus Technologies platform simplifies operations for trucking companies and logistics providers. The TMS, Driver App, and Carrier Advantage systems work together for process efficiencies that create value and reduce waste. Easy to use and affordable, Magnus leads the way in reducing empty miles, increasing service levels, and managing drivers better—all through an advanced system that makes life in logistics a bit easier.
See the Magnus TMS in action by calling (877) 381-4632 or emailing sales@magnustech.com.
For more ways to simplify and thrive in 2023, download our latest guide.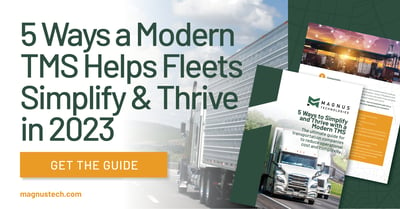 About Magnus Technologies