Ready for an Encore: Carriers Look to Increase Profits in 2022
Did you come out ahead in 2021? Was it your best year ever for revenues and earnings? Inflation and other challenges will make it difficult to achieve similar results in 2022, yet there are reasons to be optimistic.
Supply chains last year were stretched thin and dislocated at times as capacity lagged growth in freight demand. The imbalance pushed contract rates up by $0.36 a mile and increased spot market freight volumes by 80%, year over year, according to DAT.
Rising freight rates contributed to a record 6.8% jump in the U.S. inflation rate in December, according to the Bureau of Labor Statistics. Fleets were hit by inflation on equipment prices the hardest. On average, buyers paid $15,000 more for new tractors in 2021 and the price of used trucks almost doubled.
To achieve an encore performance in 2022, motor carriers will need to mitigate cost increases and drive revenue growth by getting more utilization out of their drivers and equipment.
The Fight Against Inflation
Carriers are anticipating major cost increases in 2022. The American Transportation Research Institute (ATRI) recently completed an analysis on trucking expenses that found carriers are expecting to pay more for driver compensation and diesel, their first and second-largest expense items, respectively.
Average diesel prices have been dropping slightly every week since reaching a high of $3.734 on Nov. 15, but a gallon still costs 97.3 cents more today than a year ago.
The good news is that freight volumes will not be tapering off anytime soon. The backlog of containers at marine ports is a leading indicator of continued freight demand. At the start of the New Year, a near-record 101 container ships were waiting offshore at the ports of Los Angeles and Long Beach to be unloaded.
Another reason for optimism is that so much attention and money is being focused on improving supply chains. Venture capital is flocking to technology companies that specialize in making transportation, logistics and supply chains more efficient.
The Wall Street Journal reported that supply-chain technology startups raised $24.3 billion in the first three quarters of 2021, which was a 58% increase overall of 2020, according to analytics firm Pitchbook Data.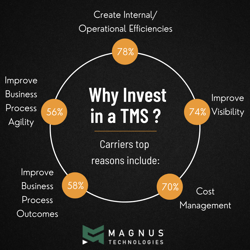 Built for Profitable Growth
(TMS) is one technology that carriers will be focusing on to drive utilization and control costs. Recent advancements give carriers a greater opportunity to reduce IT expenses and increase utilization, revenues, and profit margins.
Below are four of the many distinguishing features of the SaaS-based enterprise Magnus TMS that carriers will be using in 2022 to gain an advantage:
Scalability. The Magnus TMS has the flexibility to scale to the changing needs of a business. Magnus has a simplistic pricing model based on the number of active assets in a fleet. The model directly aligns the subscription with a customer's revenues to make the technology affordable to companies of all sizes.
Rapid Integration. Magnus has an

extensive set of integrations

with third-party applications, and typically will not charge clients extra to turn on new integrations. The ability to integrate and partner with new services quickly and transparently is imperative to take advantage of new technologies.
Mobile Driver App. Having a full-featured, driver-centric mobile app platform is critical for a modern TMS platform to help fleets maximize driver productivity and satisfaction. The Magnus Mobile Driver App has driver-centric workflows that go beyond pickup and delivery tasks to include viewing pay for upcoming loads and requesting time off.
Business Intelligence. Users at any level should not have to ask the IT department to build a report to make intelligent decisions. A Magnus TMS subscription includes BI tools that empower people to make strategic decisions with user-friendly tools such as Power BI and Tableau.
The new year brings a different set of challenges and opportunities. Magnus is ready to assist transportation companies of all sizes to successfully navigate the road ahead with enterprise-class TMS technology.
To see a demo of the Magnus TMS in action, and learn how it can be deployed quickly and efficiently at scale, contact us directly at (877) 381-4632 or sales@magnustech.com
About Magnus Technologies